Level 2 Personal Licence Holders Course Description
This online Personal Alcohol Licence course is perfect for anyone who sells, wishes to sell, or authorise the sale of alcohol in England or Wales. This includes anyone working in hospitality, bars, clubs, retail, or any other licensed premises, as well as temporary events where alcohol is to be sold. It can also be used as a refresher course for someone who already has a personal licence.
It is a legal requirement in the UK that the sale of alcohol conducted on licensed premises must be authorised by a personal licence holder. To apply for a personal licence, you must hold an accredited qualification. Upon completion of the course, learners will receive a fully recognised Level 2 Personal Licence Holders (RQF) certificate from Highfield Qualifications through our sister company Hurak.
Irresponsible consumption of alcohol causes thousands of accidents and incidents in the UK every year. A fifth of all suicides are also connected with alcohol abuse, because of this, the sale of alcohol must be regulated. Licensed premises must have an allocated personal licence holder, known as the Designated Premises Supervisor (DPS). The DPS must authorise every sale of alcohol.
This course will help you to understand licencing law, know the importance of following alcohol retailing responsibility regulations, and learn how to enforce it. It will also put you in the best position to apply for a premises licence. You will learn how to ensure the protection of children through responsible retailing and prepare for temporary events.
If you live in Scotland, take our Level 6 Scottish Certificate for Personal Licence Holders – SCPLH (SCQF)
course
Did you know: There must be at least one personal licence holder in all the premises with a premises licence where one of their activities include the sale and supply of alcohol.   
Are There In-Person Training Options?
If you prefer learning in a classroom setting and want to interact with instructors, that option too is available. We get that some learners like this approach for better retention. So, we offer a classroom version of this course that you can easily book from this page.
To revise content, we've made a practice exam for the APLH Course. It has multiple-choice questions with answers provided. You'll have 20 seconds to think about your answer, and the correct one will be highlighted in green. This practice exam is a great tool for getting ready.
On top of that, we've put together a free handbook, created by industry experts. This handbook closely matches the actual test you'll take through the board you're registered with. You can download this book for free and use it for practice exams until you feel confident and ready for the actual test.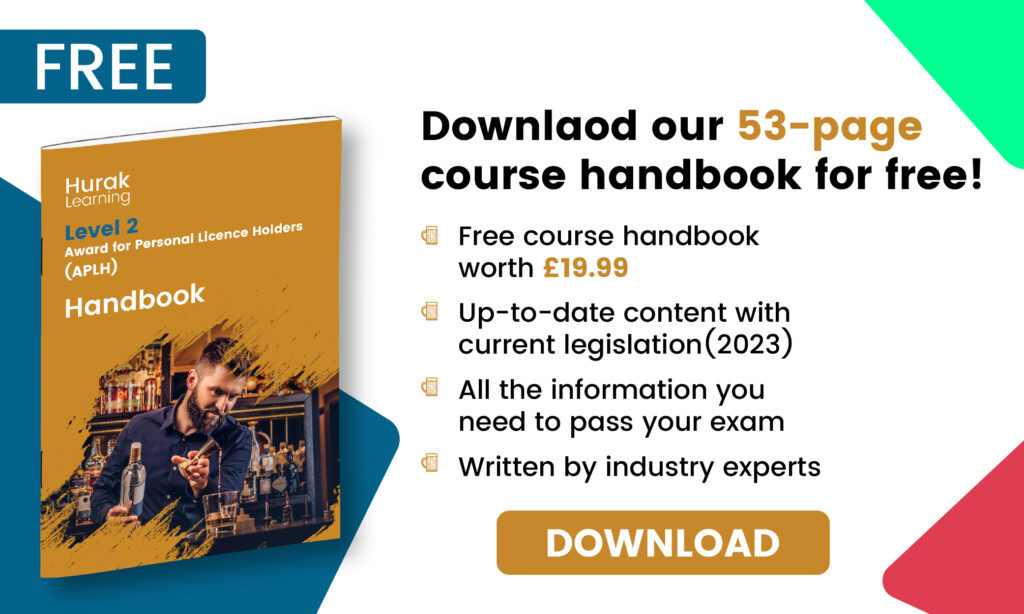 Level 2 Award for Personal Licence Holders Certificate
After successfully completing the course you will receive an e-certificate that you can download onto your device.